Superliner trio SS Raffaello 1965, SS France 1962 and RMS Queen Elizabeth 2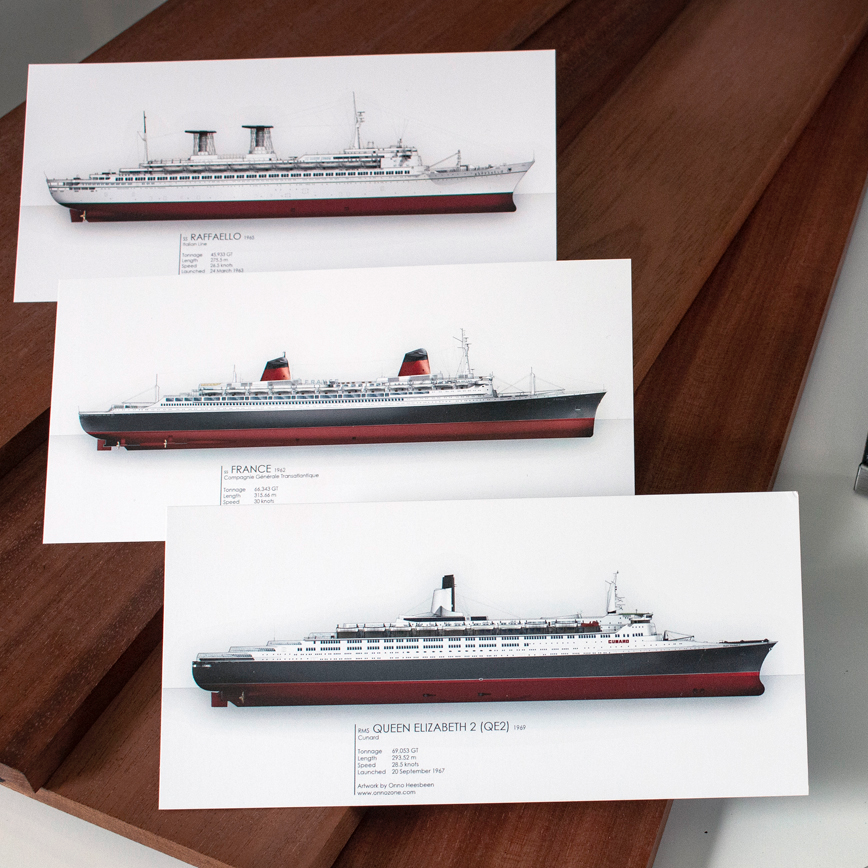 Introducing: The Last of the Super Liners.
SS Raffaello 1965, SS France 1962 and RMS Queen Elizabeth 2
In the early 1970s, the remarkable era of the Super Liner came to a close. Among the prominent names were Cunard Line's renowned rms Queen Elizabeth 2, French Line's elegant ss France, and Italian Line's fashionable ss Raffaello and ss Michelangelo.
However, the rise of the airplane during this time marked a significant shift in travel dynamics on the Atlantic route. The demand for large, fast, and class-divided passenger ships diminished as travelers embraced the speed and convenience of air travel. As a result, many shipping companies struggled to adapt and had to close down their business.
Amidst these changes, one ship stood out and proved to be the most successful - the iconic rms Queen Elizabeth 2, fondly known as QE2. Her adaptable design enabled her to continue crossing the Atlantic regularly until her illustrious career ended in 2008.
I am particularly proud of these illustrations.
Not only do these illustrations hold historical significance, but they are also simply breathtaking to behold. Each one captures the grandeur and elegance of the era, showcasing the innovation and craftsmanship that went into these magnificent ships.
The art-prints are now available as a set of 3 or individual prints at
onnozone.etsy.com
Only 100 prints are produced and each print is hand numbered and signed.